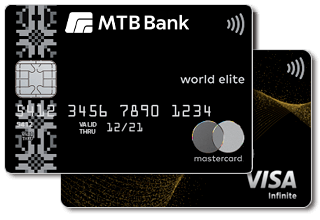 Personal package offer based on the premium card Mastercard World Elite /Visa Infinite, which provides personalized service and a wide range of services within the package.
From Visa and Mastercard Concierge Service, our Visa Infinite и Mastercard World Elite they can count on the qualification information and consulting support around the clock, service wherever they are.
Find the VisaUkraine bot and Mastercard bot in the messenger:
and after a few simple steps you will have a reliable assistant on your phone.
Benefits
Basic premium MC World Elite /Visa Infinite card in a currency of your choice;
Additional 3 MC World Elite /Visa Infinite cards in a currency of your choice;
Visa Virtuon card;
Priority Pass card;
Exclusive access to Mastercard /Visa programs and services;
Receiving information and managing accounts using SMS-Banking, EMAIL-Banking, Internet-Banking;
Credit card / Overdraft card;
Granting for use of individual bank safes on personal conditions;
Insurance when going abroad;
Accrual of % on the balance of funds on individual conditions;
Concierge service Mastercard /Visa;
Secure online payment service 3D Secure
Providing consulting and information services on banking and financial products.
Insurance "Emergency Ambulance"
To apply for service package fill out an application and our officer will soon contact you
Conditions
For the execution of this package please contact the account manager:
(050) - 785 - 02 - 25
(050) - 333 - 92 - 85
Procedure of execution
Make an arrangement with the manager
At the meeting discuss terms and conditions and execute the documents
Documentation
Information on the essential characteristics of the «МТВ ELITE»
28.08.2020