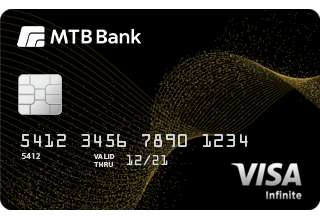 Personal offer based on the premium card Visa Infinite, which provides personalized service and a wide range of services within the package.
Qualified information and consulting round-the-clock support of Visa Infinite cardholders from the concierge service.
Find the Visa Ukraine bot in the messenger:
and after a few simple steps you will have a reliable assistant on your phone.
Benefits
Premium Visa Infinite card in a currency of your choice;
Accrual of % on the balance of funds on individual conditions;
Providing consulting and information services on banking and financial products.
Exclusive access to VISA programs and services;
Overdraft on the card on individual terms;
Concierge service VISA;
Receiving information and managing accounts using SMS-Banking, EMAIL-Banking, Internet-Banking, Mobile-Banking MTB Plus;
Secure online payment service 3D Secure
To apply for service package fill out an application and our officer will soon contact you
Conditions
card type: MasterCard World Elite;
card validity period:

3 years

;
currency:

UAH / USD / EUR

;
registration of the main card:

free of charge

;
monthly payment for cash management services:

free of charge

;
annual fee for RKO:

1000.00 UAH

;
registration of an additional card of the same class:

absent

;
minimum balance on the account:

absent

;
interest accrued on the account balance:

UAH-5,5% / USD-0,5% / EUR-0,2%

;
cash replenishment at the cash desk of the Bank:

not charged

;
non-cash transfer of funds:

0.5% min 5.00 UAH / 1.00 USD / EUR

;
cash withdrawals at ATMs and branches of PJSC "MTB BANK":

no commission

;
cash withdrawal at ATMs of the partner bank FUIB (Radius network):

no commission

.
For the execution of this package please contact the account manager:
(050) - 785 - 02 - 25
(050) - 333 - 92 - 85
Procedure of execution
Make an arrangement with the manager
At the meeting discuss terms and conditions and execute the documents