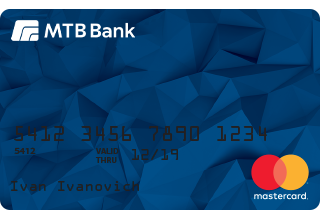 The "Care" card from MTB BANK is a complex of banking services, which includes services and software products that are useful for the elderly. It makes it possible to credit a pension and other social benefits, monitor replenishment around the clock, control the movement of money, and pay utility bills. For information about the "Care" or "All Inclusive" card, contact the managers.
Benefits
Cash-Back:
pharmacies / medicine - 2%,
receive a pension and social benefits;
make secure payments in the Internet 3D Secure;
pay for online purchases;
receive interest on the cash balance (8% per annum);
pay for purchases in the trade and service network and public services without commission;
participate in the bonus program and much more.
To apply for service package fill out an application and our officer will soon contact you
Conditions
card type:

MasterCard Debit Standard Contactless / Visa Classic PayWave

;
card validity period:

1 year

;
currency:

UAH

;
registration of the main card:

free of charge

;
monthly payment for cash management services:

free of charge

;
annual fee for cash management services:

free of charge

;
registration / maintenance of an additional card of the same class:

free of charge

;
minimum balance on the account:

absent

;
interest accrued on the account balance:

8% per annum

;
cash replenishment at the Bank's cash desk:

no commission

;
non-cash transfer of pension / cash assistance:

no commission

;
cash withdrawals at ATMs and branches of PJSC "MTB BANK":

no commission

;
cash withdrawal at ATMs of the partner bank FUIB (Radius network):

no commission

.
To apply for the "Care" card, fill out the online application attached at the bottom of the page. The manager will call you back to choose a convenient place and time for signing the contract. He/she will also tell you about other existing service packages or account capitalization..
Documents for application
To obtain a list of documents required to open a deposit, individuals can fill out an application, call the indicated number or visit the MTB BANK branch in Kyiv or the nearest city of Ukraine.
Procedure of execution
Make an arrangement with the manager
At the meeting discuss terms and conditions and execute the documents
Documentation
Essential characteristics of the package «CARE»
07.08.2020